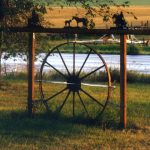 Located on the northwestern edge of the Nebraska sandhills, I raise what I consider to be all around horses with an emphasis on reining, reined cow horse, cutting, halter and ranch pleasure that can also do every aspect of ranch work.  I have been raising horses for almost 40 years and competing with them in AQHA, NRHA, NRCHA and open shows as well as ranch horse competitions, team sortings and team pennings.  Most of the horses I have for sale are eligible for the AQHA Ranch Breeder Heritage Competitions.
My broodmares bloodlines include halter, reining, cutting, reined cow horse and performance greats such as Freckles Playboy, Two Timin Freckles, Colonel Freckles, Rey Jay, Gay Bar King, Three Bars, Doc Bar, Sugar Bars, King, Leo, Jackie Bee, Mr Gun Smoke, Poco Bueno, Doc O'Lena, Doc Lynx, Smart Little Lena, Playlite, Gray's Starlight, Doc's Jack Frost, Doc's J Jay, Watch Joe Jack, and Frosty Feature plus many more great foundation horses.
My senior stallion Classy Dakota Jack is a gorgeous palomino that has a super disposition and conformation. He has a good mind, pretty head and a big hip that he passes on to his offspring.  He has been producing color.  He has and is being shown in AQHA shows in halter, reining,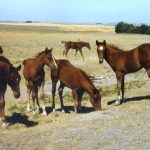 ranch pleasure, trail and shown in NRHA shows.  In 2011 he qualified for the World AQHA Championship in open senior stallions where he placed 10th. In 2012 he was AQHA High Point Open Senior Stallion and will finished the 2013 year probably in the top three.  He qualified in 2012 and 2013 in open aged stallions and in 2013 in ranch pleasure for the world show.  He picked up five grand championships and two reserve championships in 2013.  See his page for all his accomplishments. Classy is also used on the ranch.
My new junior stallion is a chestnut with a lot of chrome, Tari CD Smoke has a great disposition and conformation. Smoke came from the Open Box Rafter Ranch in South Dakota where they raise performance horses.  He has cutting, reining and reined cow horse plus performance bloodlines.  He is smart, talented and very willing to learn.  I am planning on breeding him while the other two will probably be my main show horses, but may also show him too.  I had only owned him for two weeks when I took him to his first show where he won two first place awards and was 2013 Region 2 Reserve two year old stallion, for never being exposed to that type of environment he handled it like he'd done it all his life.